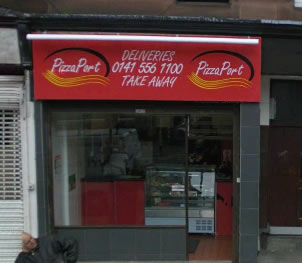 Pizza Port in Alexandra Parade,
Glasgow G31
delivers hot and tasty
takeaway
straight to your door through. The menu brings you scrumptious Pizzas such as Farm House, the exotic Hawaiian, Greek Islander, ultra Veggie, Bacon Cheese Burger (Pizza) plus much, much more. Begin your meal with Starters such as Garlic Bites, Potato Wedges, Onion Rings, Jalapeno Flamers and many others. Not only are there Pizzas but also meaty Burgers and Kebabs, Jacket Potato, Calzone dishes, Wraps and Pasta dishes including healthy Salad. Add finishing touches to your appetite with Danish Pastries, Muffins, Cakes and Gateaux. Pizza Port is open Monday to Sunday from 11am to 11pm except Saturday and Sunday opening at 2pm. Make your orders over £7 for delivery charge of £2.

To order hot pizza online from Pizza Port in Glasgow, click the button below: