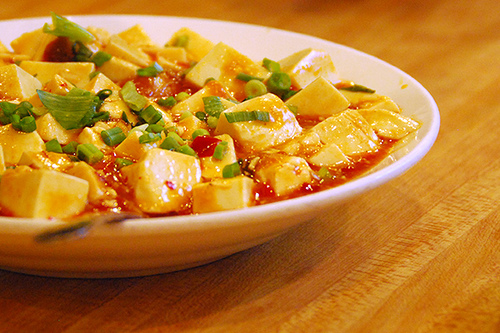 Cantonese wonton soup
One of the most popular soups in street food stalls throughout southern China, and equally popular in Chinese restaurants in Britain. The wontons — stuffed savoury dumplings — should be poached in clear water, then served in a rich broth. Many of the versions you find in the West are fairly authentic.
Spicy hot and sour soup
A heavy soup from northern and western China that somehow made its way to the West. It combines sour and spicy elements in a rich, tasty stock, with different textures and contrasting flavours, and remains fairly authentic.
Crispy seaweed
One of the most popular dishes with Chinese restaurant diners in Britain. Rarely authentic, because a special type of seaweed used in eastern China is not available in the UK. Clever Chinese cooks have used Chinese cabbage as a substitute. Perfect for vegetarians.
Steamed Cantonese-style fish
For a British public used to deep-fried fish and chips, a steamed fish must have come as a shock. The southern Chinese tradition of steaming preserves the purest flavours of the fish: delicious, and healthy too.
Sweet and sour prawns
A bestseller on Chinese menus, with the sweet and pungent flavours of the sauce matching the firm and succulent prawns. One of the first Chinese dishes most British diners try, and a popular takeaway item too.
Stir-fried beef with oyster sauce
One of the most popular dishes in our family's restaurant, especially with Westerners. It is a Cantonese southern Chinese favourite that is savoury and quite addictive.
Stir-fried chicken with black bean sauce
Another favourite of many first-time diners in Chinese restaurants. No wonder: the fragrance of fermented black bean sauce mixed with garlic and ginger is a mouth-watering combination.
Crispy aromatic duck
How this bestselling duck dish crept on to the kitchens of Chinese restaurants is a strange story. It is originally a Sichuan dish from western China, where it is usually chopped and served with the bones. However, in Britain it is served off the bone and shredded beyond recognition. Perhaps it was adapted to a then timid British dining public. At any rate it is one of the top items on most Chinese menus. The crispy skin and moist, savoury meat wrapped in a pancake together with shredded spring onion and cucumber and a dash of hoisin sauce is definitely a winner.
Chinese chicken curry
Curry, brought into southern and Eastern China by Chinese immigrants returning from South-East Asia, somehow found its way into Britain. Brought perhaps by Cantonese cooks from Hong Kong, it quickly became a standard dish. Its appeal is its mild flavour, unlike the stronger traditional Indian curry. However, this dish has become so westernised that it would be hard to find in China today.
Egg-fried rice
This was a clever move by Chinese restaurant owners to sell rice by adding value with a simple egg. It is probably the best-known and most popular Chinese dish anywhere outside China. The hot wok gives ordinary cooked rice a wonderful grilled, almost smoky, flavour that is the hallmark of good fried rice.
There are many place where to order Chinese food online from local food takeaways. Chinese takeaways in Glasgow, Chinese takeaways in Birmingham or Chinese takeaways in Reading.